Because I am slightly mad, I am modifying a valve portable radio to have an extra FM waveband. I have picked up some DC96 for the front end oscillator and the data from Valvo on radiomuseum.org provides a schematic with transformer winding specifications.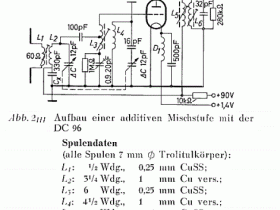 I'm having trouble with the translation of these instructions, as terms like Cu SS, and Cu vers. mean nothing to google

Also I'm not sure if the intention is for tightly or loosely coupled windings (I guessed tight for the oscillator and loose for the pre-select transformer)
I wondered if some-one here skilled in the art and a native speaker could help. I have had a go but the tube won't oscillate..
Kevin.